Women's Tuesday Morning Bible Study
Our Tuesday morning Women's Bible Study meets from 9-11am at the church and is going through a 13-week workbook study by Casandra Martin called "Paul: By the Grace of God." This Bible study is ideal for women desiring to study God's Word, to have fellowship as sister's in Christ, and to share prayer needs and praises.
We'd love to have you join us! For further information or questions, please call or text Darlene at 608-290-6182 or email dheider6@aol.com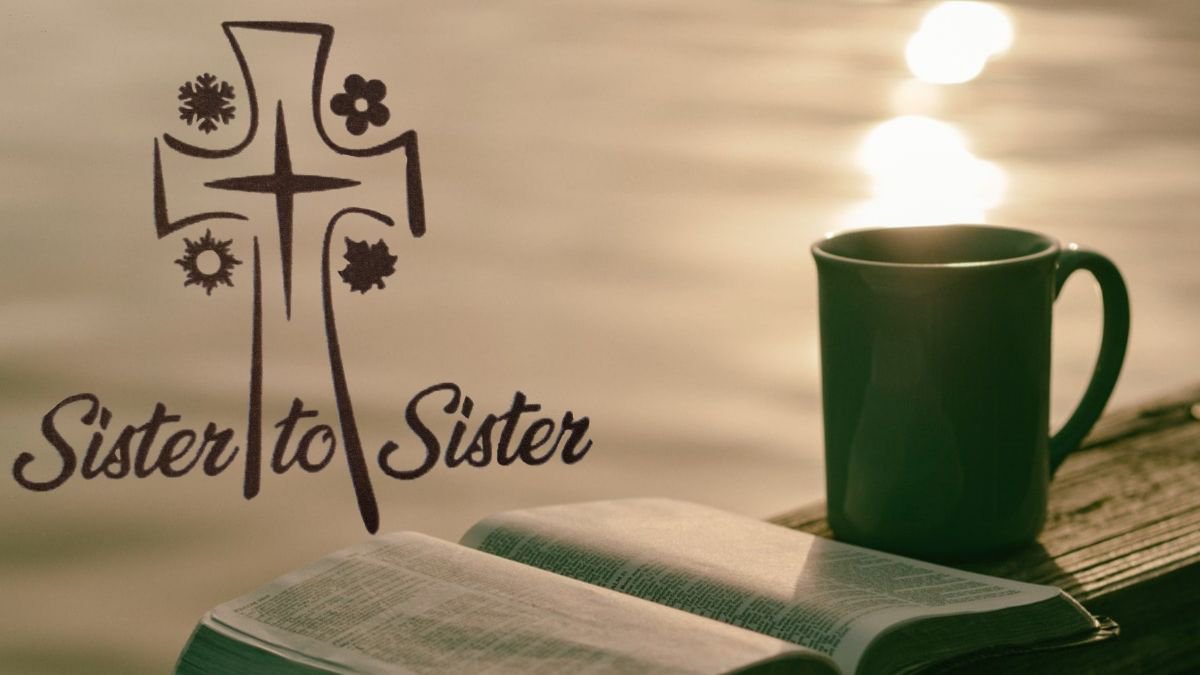 Sister to Sister
Sister to Sister is another part of the women's ministry of Faith Community Church. We host a women's fellowship event on the second Saturday of every month, Sept. through May at 9:00 AM in the Youth room of the Janesville Campus. Join us for fun, food, fellowship and time to learn and grow in Jesus Christ together.
We complete a different book study every session and would love to have you join us. Please see below for information about our current study. All are welcome!
Sister 2 Sister Fall 2021/Spring 2022 Book Study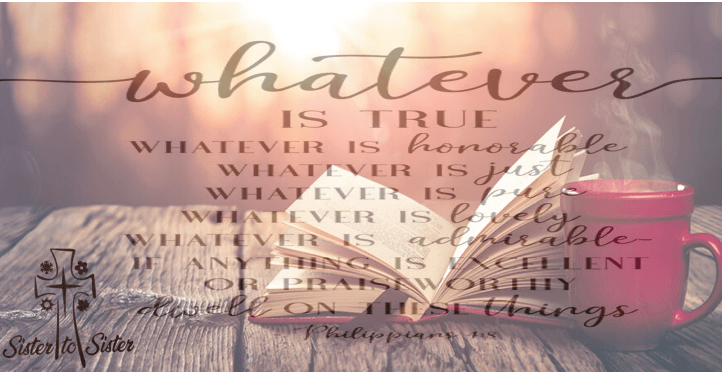 Hello Ladies! We pray you are all doing well! We are looking forward to seeing all of your smiling faces! We will begin with breakfast and fellowship, followed by Get Out of Your Head video teaching from Jennie Allen on Session 5. We will then get into our small groups for some discussion time.
Hope to see you all Sat. April 9th at 9am at the Janesville Campus!
We would also like to invite you to join our facebook group -Sister to Sister (Faith Community Church - Janesville/Stateline) https://www.facebook.com/groups/1617617655167538. Here you will find updated information on current and upcoming events, uplifting messages and posts, a community of sisters to pray with you and a safe place to connect and ask questions.
Blessings to you all!
Your Sisters in Christ,
Stacie Hogue (Janesville)
Sue Luchterhand (Janesville)
Carrie Knopp (Janesville)
Emily Kieck (Janesville)
Beth Krenke (Janesville)
Julie Benson (Janesville)
Tina Rossmiller (Janesville)
Gayle Neuberger (Janesville)
Marlena Nelson (Janesville)
Jean Allen (Stateline)
Body Balance Schedule - Spring 2022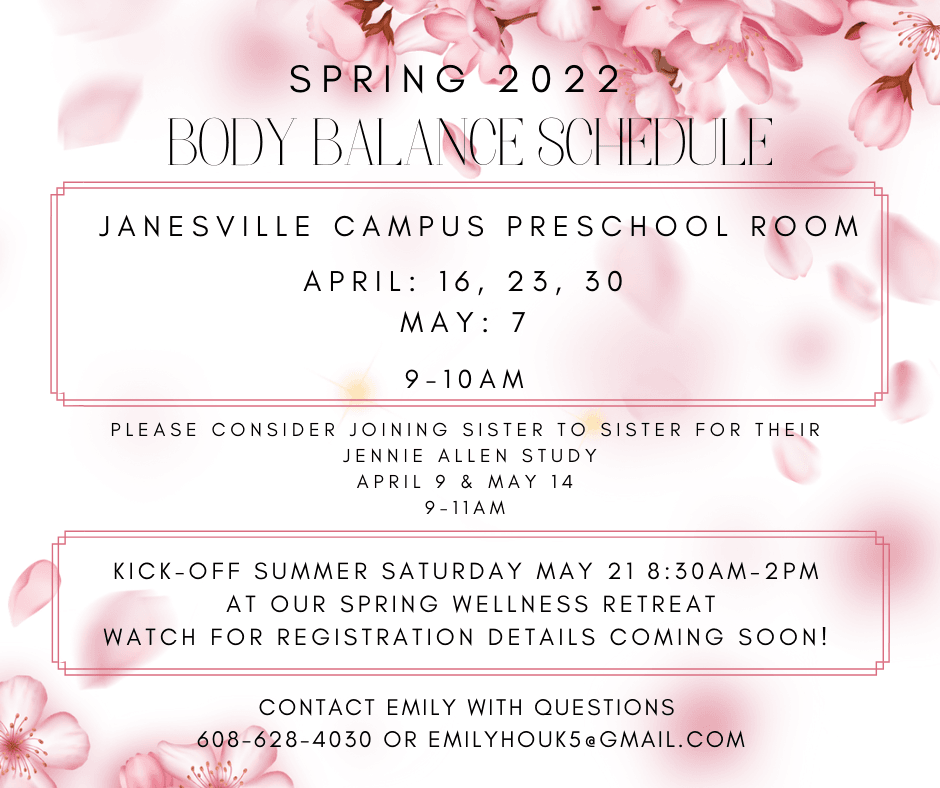 As sisters in the body of Christ, we are interested in providing opportunities to care for the whole you that God created, so we invite you to join us for Body Balance classes led by Emily Kieck. These exercise classes are designed to honor your body where YOU are at, all shapes, sizes and abilities! Don't forget to mark your calendars so you can join us for our upcoming Spring Wellness Retreat!! More information coming SOON!
All classes are held from 9am-10am in the Pre-School room, on the Janesville campus.
If you have any questions about the classes, contact Emily Kieck at 608/628-4030.