(We generally hold a baptism service on a quarterly basis, once every three months or so. If you would like to be baptized, please contact Pastor Tim for more info using the link below. For more information about what baptism is, keep reading below!)
Hey Southern Campus! Considering baptism?
We've heard about what God is doing in your lives down in Georgian and we are excited to celebrate with you! Pastor Tim will be coming down for a visit on the weekend of June 4th, and we'd love to have you join us after the contemporary service for a potluck and baptism. If you are interested in making a public profession of your faith that day, please sign up to let us know by clicking the link below. Feel free to email Pastor Tim with questions at pastortim@faithjanesville.org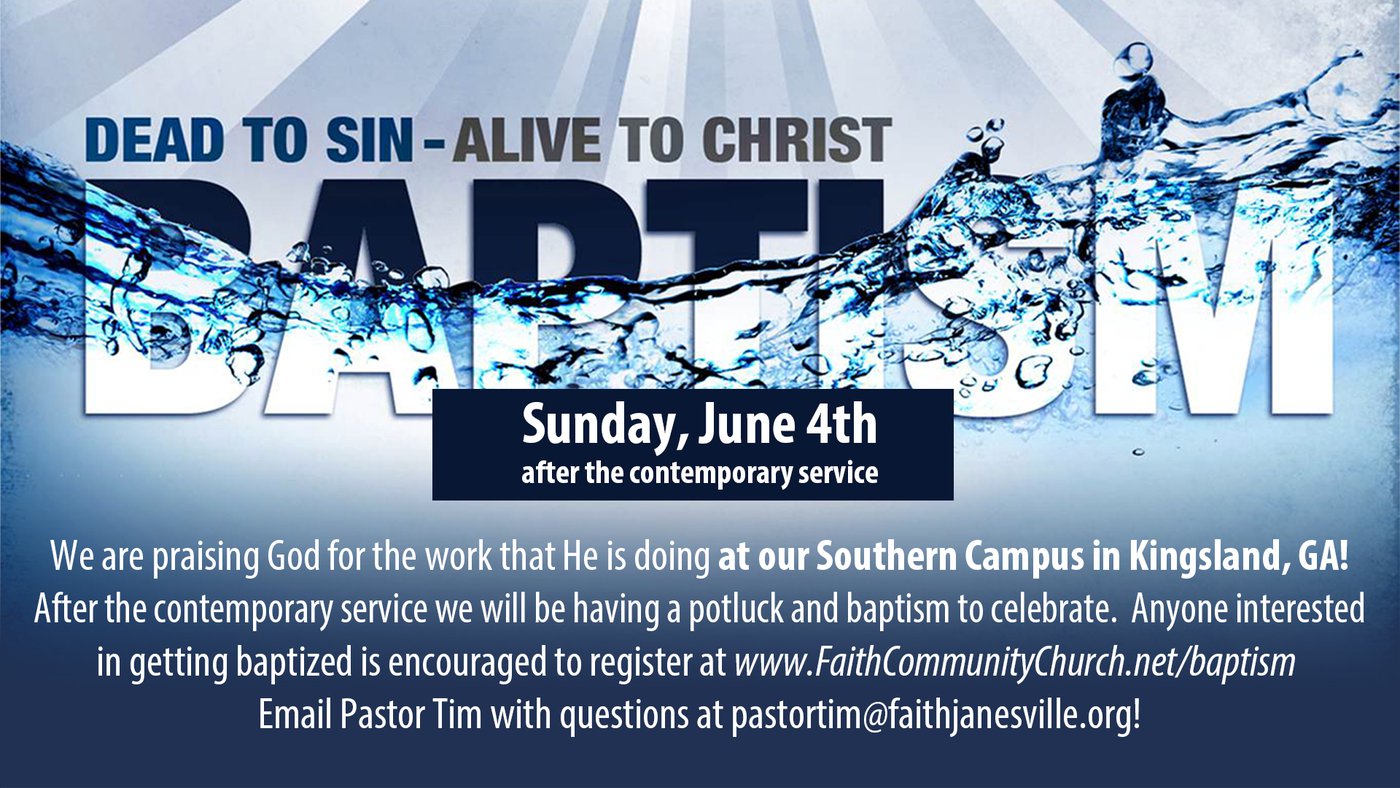 "I tell you the truth, no one can see the kingdom of God unless he is born again"
(John 3:3)
What is Baptism?
Water baptism is something that we do that symbolizes the change that happens to us when we receive the gift of salvation from our sins through Jesus Christ. The water not only represents cleansing from our sin, but going under and coming out from the water reflects Jesus' death and resurrection—we were dead in our sin, but because of Jesus we are offered a new, eternal life (Romans 6:4).
Who should be baptized?
Anyone who is willing to make Jesus their highest priority and wants to live a life that is pleasing to God is ready to be baptized. This assumes that you need to be old enough to really understand what that means. At Faith we practice a prayer of dedication for children rather than baptism, as consistent with Jesus' practice (Mark 10:13-16).
How do we baptize?
In the days of the the early church, when someone received Jesus into their life, their next step would be to get baptized. This was a public recognition of a new life and a new family - the Church! Jesus taught to baptize people who wanted to live for Him "in the name of the Father, and of the Son, and of the Holy Spirit" (Matthew 28:19). We baptize by "total immersion" (which basically means that all of you gets wet), which was the usual practice of the early church (see Matthew 3:16).
Why should I be baptized?
Baptism is like a wedding. You don't have to have a wedding or a reception to get married, but why not celebrate and let all of your friends and family know how excited you are for this new stage of life? Baptism is a celebration of the amazing things God is doing in your life with those who care about you.
We also get baptized because Jesus modeled it for us, and He commanded His followers to baptize those who were new to their faith. It's a way to solidify in your heart and mind what you believe and Who you are living for. Baptism is actually a very helpful reminder when you might face days of discouragement. You are drawing a line in the sand, moving forward in a new life, and never looking back. You are proclaiming your love and commitment to a God who loves you with all of His heart!