NEW SERVICE TIMES STARTING JULY 4 WEEKEND
Saturday:
Contemporary Service: 5:00 p.m.
Sunday:
Traditional Service: 8:45 a.m.
Contemporary Service: 9:00 a.m and 10:30 a.m
Spanish Service: 12:30 p.m.
Stateline Campus:
Sunday Service: 10:30 a.m.
---
August 15th 4th Ward Back-To-School Blessings
This is event will held at 10am at the 4th Ward Park. Free bikes, locks & helmets, food boxes, and backpacks with school supplies will be given away! Faith is partnering with the event team to collect school supplies to help fill 96 backpacks which have already been donated. Every single item given will be a used to bless a child. See list below or pick up a copy at the Faith in Action Center in the foyer.
Crayola crayons 24 count - 157 boxes
Wide Rule spiral note book - 97
Colored pencils 10-12 count - 67 boxes
Wood Pencils #2 - 60 boxes/packages
Pink Pearl Eraser - 68 Plain Pocket folders - 300
Elmer's washable blue - 80 bottles Ruler - 70
Glue sticks - 168 School supply box - 100
Crayola washable broad markers - 93 boxes
Scissors (Fiskars) - 100
Kleenex 1-1/2 inch binder - 100
Quart, gallon & snack size baggies
Hand sanitizer & bleach wipes
Back-to-School Outfits & Shoes
Faith received the names of 4 under-served families with a total of 15 children and we would like to provide these children with a new back-to-school outfit and shoes. If you would like to adopt a family, child, or article of clothing and bless them with a gift, please stop by our table in the foyer to sign up or contact Laura Bergeron at the church office at 608-758-2850 or cell 608-728-3696.
All gifts and supplies are due back no later than August 12 for
distribution on Saturday, August 15. Thank you for blessing our community!
Want to help during this time of need? Sign up and we will get you connected.
Grocery shopping & delivery
Meals for families
Transportation to local food pantries
Variety of other needs in the community
---
So much is happening surrounding the coronavirus, and during this time, we as a church want to serve our community! If you need help in anyway, let us know how we can be serving you!
---
What we're doing
UPCOMING OUTREACH EVENTS
Back-to-School Bash Socks & Undies Collection August 1-31. Boys and Girls sizes small - extra large are needed. Please drop off donations at the church M-F, 8am-4pm or before and after weekend services at the Faith In Action Center. Volunteers are needed to help man the games area at the event on Sept. 19th. Sign-up will take place beginning August 29th!
---
announcements
Faith Community Church – Janesville Campus
Social Distancing Practices (as of 6.10.2020)
These guidelines are provided for the health and safety of our church members. We are doing our best to abide by the national, state, and local government directives and will adhere to guidelines while accommodating as many people as possible as we persevere through this pandemic season. Your patience and compliance are greatly appreciated!
Weekend Services:
Church members are encouraged to practice love and grace for others as they consider their differing opinions on social distancing guidelines.
As you enter the church, hand sanitizer and facial masks will be available. Please use them to help us prevent the spread of COVID-19.
Please note that though everyone is encouraged to wear a mask, we are not mandating this as a requirement to attend worship services. We also encourage you to respect those around you by limiting physical contact (hugs and handshakes) for their comfort and safety.
Beginning the weekend of July 4-5 we will have four identical services: Saturday at 5 p.m., and Sunday at 8:45 a.m. Traditional, 9:00 a.m. Contemporary, 10:30 a.m. Contemporary and12:30 p.m. Spanish.
The van pickup service will be available during the 10:30am service.
Seating is set up so that members are able to worship while maintaining a minimum of a 6 foot distance from others. Family members residing in the same home are welcome to sit together.
Two seating locations are available for Sunday morning services: The main Sanctuary (Room A), the Youth Room (Room B). There will be a live stream into the Youth Room. This is to accommodate as many people as we are able to, up to a 50% capacity per the fire code of each designated room. (See images below for clarification)
Those who feel strongly about wearing a mask are encouraged to find a seat in the Youth Room (Room B).
People wishing to sit in the sanctuary or the Youth Room are encouraged to park in the north parking lot (A/B) and enter the church through the north sanctuary doors only.
There will be no nursery, children's church, or junior high youth programming until phase three of the reopening plans per the Rock County Health Department.
We will not be having a meet and greet time during our services.
No offering will be taken during the service. There are receptacles in the rear of the sanctuary and in the entryway near the church office to deposit your offering. You may also go online to the church website and check out giving options under the "Give " menu at www.FaithCommunityChurch.net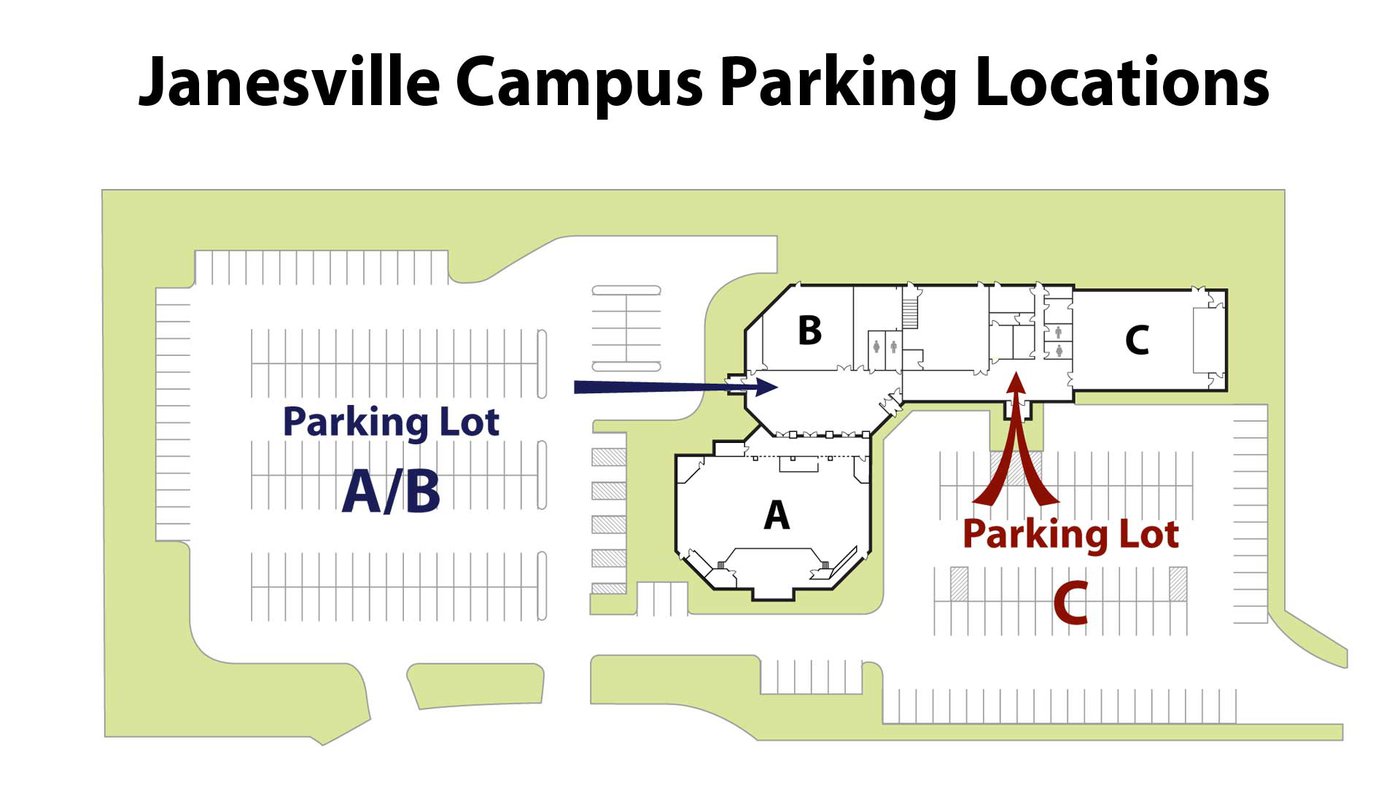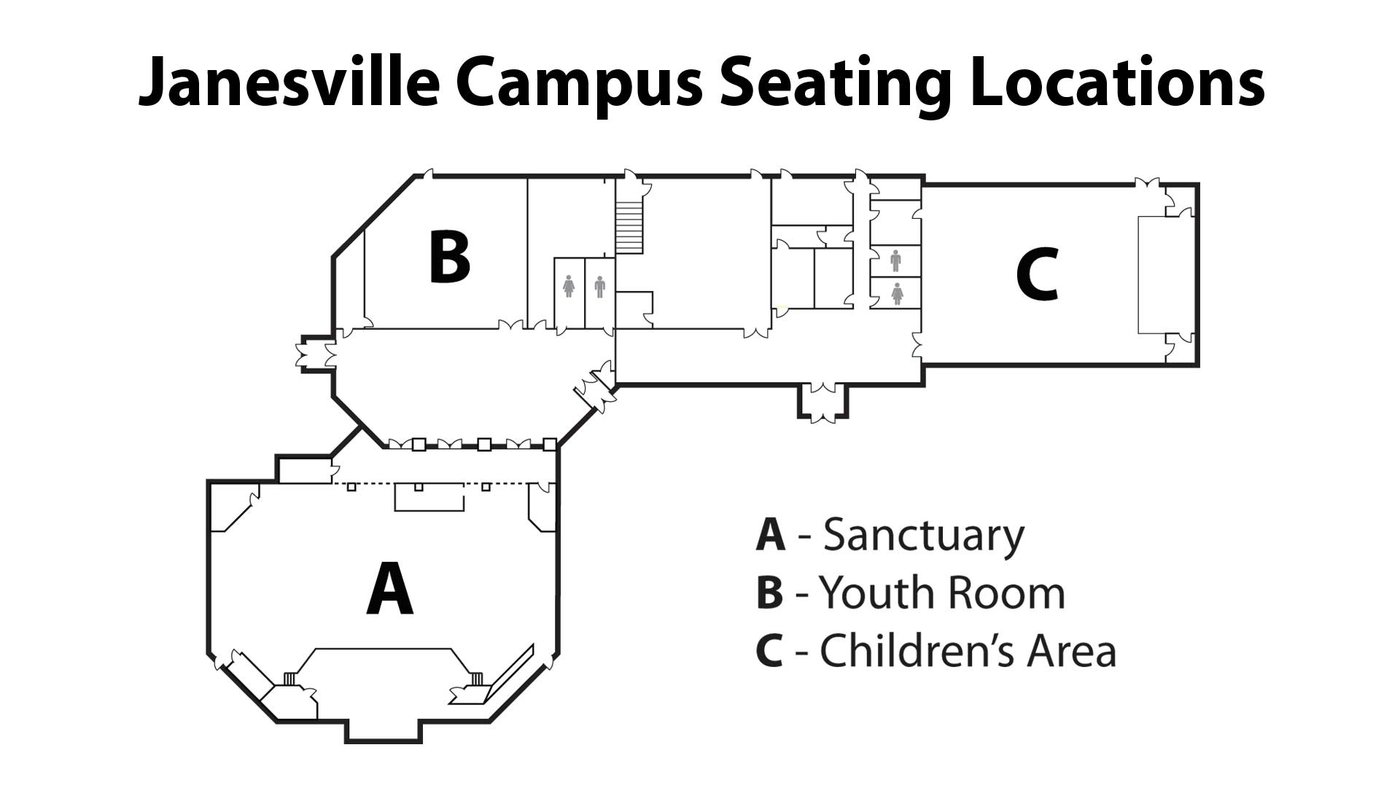 Group Meetings (Bible Studies, Classes, Small Groups, etc.):
The church is available for use by groups that are scheduled on the church building calendar. Please check with Laura Bergeron for availability to use the church for ministry purposes. You can contact her in the church office at 608-758-2850.
Groups using the church are expected to abide by the social distancing measures mentioned above. Please maintain a 6' distance from one another and only occupy up to 50% of the room capacity.
Groups are responsible for setup and cleanup of any rooms used during their ministry time. This includes rooms, bathrooms, and door handles. There is a sheet located in the cleaning check list mailbox to fill out each time you use the church. Please place the completed form in Laura's mailbox.
Supplies for sanitizing will be located in the foyer utility room across from the bathrooms. More supplies are available in the utility room across from the nursery and also in the Children's area.
Thanks again for your help in keeping everyone at our church safe and healthy!
If you need help in any way, let us know here.
---
HERE'S WHAT YOU CAN DO TO HELP
Pray for our community and those directly affected by COVID-19. Pray for the health care workers who are treating the sick and those public health administrators making difficult decisions. Pray that God would protect our community from further spread of the virus.
Reflect Christ. In these anxious days, the church (all of us) can shine as a light of hope, care, faith, patience, and prudence. We can demonstrate to the world how our faith provides true assurance against worry and fear.
Practice recommended personal hygiene. Wash your hands frequently and stay home if you are sick.
ACCORDING TO THE CDC, HERE ARE SOME STEPS WE CAN ALL TAKE
If you are high risk, such as older adults and those with underlying chronic medical conditions, avoid crowds as much as possible.
Continue social distancing of at least 6 ft.
Avoid close contact with people who are sick.
Avoid touching your eyes, nose, and mouth.
Stay home when you are sick.
Cover your cough or sneeze with a tissue, then throw the tissue in the trash.
Clean and disinfect frequently touched objects and surfaces using a regular household cleaning spray or wipe.
Wash your hands often with soap and water for at least 20 seconds, especially after going to the bathroom; before eating; and after blowing your nose, coughing, or sneezing.
Wear a face mask whenever you leave your home.
---